With Google dominating the search engine game, it's often easy for business owners to overlook Bing. Microsoft's search engine may lack the pizzazz and sparkle of Google, but it's no less important in a well-rounded and successful digital marketing strategy.
Much like Google's GMB feature, Bing has a similar product called Bing Places, where you can control your business listing as it appears on local searches and local maps. Keep in mind that everything is going "local, mobile and maps." Whether it's typed-in search queries, or voice command queries, you have to be certain to optimize for "local, mobile and maps."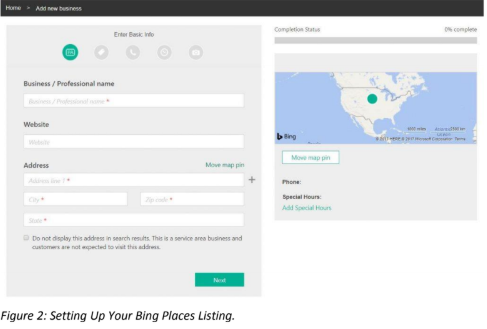 Why use Bing Places?
As an insurance agent, you probably want your customers to have policies that cover a wide range of events and possibilities; it's like placing your customers under a large umbrella. Well, think of digital marketing on Bing as something similar – it helps to cover all your bases.
In fact, you may even think of it as casting a wider net. Studies have shown that there are over 66 million people who aren't reachable on Google. And even more surprising: 40% of these people are between the ages of 34 to 54 and have an average income of $100,000. That means there are high net worth individuals out there that you can reach using the Bing search platform. Bing Places is the "place to begin" building that foundation.
So, here's your Bing Places Digital Strategy Checklist:
Set Up Your Bing Places Listing
To begin, you must set up your Bing Places listing. Bing makes this process relatively easy and quick (about 20-30 minutes). This step also ensures that you gain control of your agency's listing and prevent someone else from making unauthorized changes.
Here's what you need to do: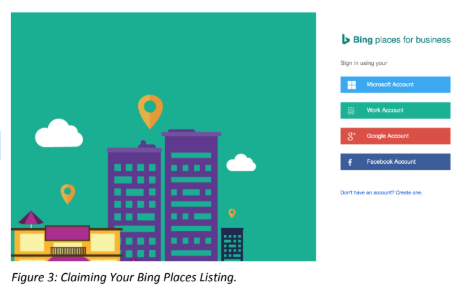 Search for your insurance agency to see if you already have a listing
If you see your listing, then you can click through to claim it. If not, you have the option to create a new business listing.
After you add or claim your business, you'll be asked to create a Microsoft account, if you don't have one. Fill in your business details (very important for the next step)
You'll be asked to verify your listing via a pin sent to you through email, phone call, text message, or snail mail. Once you get your pin, enter it on your Bing Places Dashboard. You may hit some snags in this process, so make sure you put in accurate information, so you can claim your listing as soon as possible.
Once you've claimed and verified your listings, you'll have access to the Bing Places Dashboard. Using this dashboard, you can change and edit your details as needed.
Complete Your Business Details
A complete and accurate Bing Places business listing is necessary for a successful digital marketing strategy on Bing. The more accurate information you give Bing about your insurance agency, the greater your changes that Bing (the search engine) will serve you up for relevant search queries in your local market area. Just as is the case with Google, Bing (Owned by Microsoft) is extremely focused on serving their users the most relevant results in the shortest period of time.
Put yourself in the shoes of your potential customers who are searching for any insurance agency that can meet their needs in your area. Wouldn't you want to be able to call the right office or ensure that you'll be driving to the correct insurance agent's office location? There's nothing more annoying than driving somewhere and getting lost or calling the wrong number.
Aside from your agency name, make sure your address, phone number, email and website address are correct and consistent. Even small differences, like "avenue" vs "avenue" or "suite" vs. "ste" can make a difference. It doesn't matter which variants you use, as long as it's consistent with what's written on your website. Many experts recommend that you sync all your online directories with your GMB account. ABS prefer the latter. Why? Because it's Google!
Don't forget to add your correct business hours, plus any special hours to your listing. In fact, "rich listings" is a big deal now. That means Bing, Google, Facebook and Yelp (and I'm certain many more by the time you read this article) are now requesting that insurance agents update their "holiday hours" throughout the year. For example, I'll use last Thanksgiving as an example. Virtually all insurance agents, across the U.S., were closed on Thanksgiving Day. However about 10-15 percent of insurance agents, across the U.S., were open "special hours" on "Black Friday" (Day after Thanksgiving). Your top digital assets, in your market, want you to update your "holiday hours" throughout the year, so that again they can ensure their users the "best experience" possible while operating on their platform.
Choose Your Categories
Categories are important on Bing Places, as this tells the search engine how best to put you in front of the right consumers and business owners. Checking off all your products offered (categories) is an important step to ensure that you have a fully optimized business listing.
Bing will require that you choose a primary and auxiliary category. Don't feel intimidated or confused. These are just ways to help Bing narrow down what it is you do and what services or products you offer. Keep in mind they're trying to "perfectly parse" out this data for millions of businesses, just here in the U.S. Don't forget they're trying to do the same thing across the globe, and they're doing it in a "nano-second." That's fascinating, right? To help make their jobs easier, let's help them out by fully optimizing your Bing Places business listing.
Type in as many categories as your agency might fit under. You can list the types of insurance your agency provides, like "home insurance," "auto insurance," "business insurance," etc. From these, Bing will give you some suggestions on what your primary category might be. You'll want to choose "Insurance" as your primary category, of course.
The primary category is important. You need to choose the one that best reflects your business, because this is how Bing's search engine will decide where to place you in the SERPs (Search Engine Results Pages). Again, those insurance agencies that help Bing help their users will rise to the top of page one results, almost without exception, over time.
After all, if someone is looking for "florists" or "French restaurants," they won't want to see your agency in their search results. Alternatively, if someone wants to find insurance coverage for their new car, then you definitely want to show up in the local SERPs for "auto insurance."
Add Your Business Description
Your Bing Places description is like your elevator pitch. You need to make sure you capture everything about your agency in a few short words, while being able to highlight the value of your business.
Choosing the right keywords to put in your description is vital. Some people may be too busy to read a description that's three paragraphs long. They might skim it, so make sure you add in the products and services you offer in your description. But, you should also sound personable and approachable.
The business description is also the place where you can really show off your agency's achievements. You can add in any awards you may have received, accolades from the local community or beyond, or any programs you've joined that you're particularly proud of. By highlighting these special achievements, you can stand out from your competition and entice people to do business with you.
Remember, most people doing searches are already ready to buy; they just want to be sure they are choosing the right agency to work with. A good business description can set you apart from your competitors and encourage them to contact you, instead of those other agents in your community.
It may take you awhile to find the right description, but the great thing about the Internet is that you can change and tweak your description, as you wish. Try different variants and see what works best. A professional SEO copywriter might be a good investment as well, as they will know the right keywords to ensure your business listing has the best chance possible to show up at the top of the SERPs.
Use Photos to Enhance Your Listing
It used to be, if you looked for a business in the classified ads or a phone book, you wouldn't see their office or even an actual person until you went to their location. These days, however, it's much easier to find photos of almost anything and everything on the World Wide Web. Much of this is happening, in the mind of this researcher, because people don't want to read (much) anymore. As a result, your major digital asset providers are encouraging insurance agents to use more photos, images and short videos to showcase their agency. Users are demanding, to the likes of Google, Bing/Yahoo Network, Facebook and Yelp, that business listing owners showcase their business using photos/images/videos; it's because they want to "see who they're going to be doing business with" long before they make the decision to pick- up the phone, visit face-to-face, or fill out a quote form on an agent's website/microsite.
The Internet and social media have transformed the way people consume media, particularly visual media. These days, it's not enough to just have your business listed and described in words. People really do "judge a book by its cover" so you must be able to impress people with photos and other visual content in order to entice them to do business with you. Building a "photo library" is an excellent way to ensure that you "stand out from the crowd," and it will do wonders to help you improve your online reputation.
Bing Places allows you to have only ten photos. Compared to other business listing pages, this is quite limited, so you need to make sure you have the best photos you can possibly have on your page. ABS encourage our clients to rotate a fresh set of 10-photos into their Bing Places each month or two. Keep in mind the search engines know which photos are "fresh" as compared to those that have been on your business profile for the past few months as opposed to those that have been on your profile for even the past few years.
Here are some samples of the types of photos you can use:
Exterior and interior photos of your location. Exterior photos of your building or doorway/signs can also help people find your office easily, in case they are lost.
Include your logo and award badges. Show you are your team members', preferably while they are at the office or at an official event. With the appropriate, signed photo release, display pics of "happy customers."
Remember, this is the first visual impression your potential customers will be getting of your insurance agency. So, make sure to choose the best photos that give your agency a professional appearance. First impressions are most important, online, today!