LinkedIn Company pages are a central hub for information about your agency. It is important to make sure your agency's profile, personal profile, and the profiles of your team members are professional and complete so that your brand is well represented. Since LinkedIn is a business- to-business (B2B) networking site, increasing your agency's exposure on this platform is a way to connect with more potential customers who are looking for commercial coverage.
The best brand advocates that you have are your team members. Therefore, encourage each of them to create and optimize their own LinkedIn profiles. Post fully compliant content three to five times per week, preferably Monday-Friday. Investing your time in building your presence on LinkedIn is important if you want to amp up your commercial book of business this year.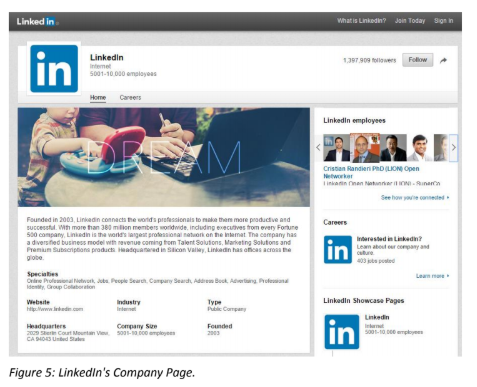 Don't shy away from sharing content from thought leaders in given segments of the insurance industry. Take a look at the articles you already read, e.g., the news you consume about the insurance industry. What are thought leaders, like Tom Hegna, saying right now? What are the relevant topics, and has someone else thoroughly covered these topics? If so, share one of those articles to your insurance agency's page.
Interestingly enough, potential customers will find you to be more credible when you share other thought leaders' articles. Why is that? Buyers get a sense of comfort with familiarity. If you share an article from a reputable, easily recognizable source, your potential customers will perceive your agency as "keyed in," or in other words, on par with industry best practices and standards.
The best thing about LinkedIn isn't necessarily who you know and to whom you are connected. It is about who your network knows and to whom they are connected.
Create a Company Page (Some brands don't allow company pages to be established by their agents. They recommend setting up a personal page and making mention that they represent that particular brand as an agent).
To set up a company profile page, you must already have a personal LinkedIn Profile. It would be safe to assume that if you are referencing this guide to enhance your LinkedIn marketing Figure 5: LinkedIn's Company Page.
strategy, you probably already have a well-managed personal profile. Now it is time to establish your agency as a "category expert," in your market. You'll first need to go to LinkedIn's Marketing Solutions page. From there, you can create a free LinkedIn page on your agency's behalf. All you need to get started is your LinkedIn personal account and a verified email address.
Next, click the "Create a LinkedIn Page" icon and follow the prompts.
Upload a Cover Photo and Your Company Logo
Add some personality to your page by uploading a cover photo and a company logo. Note that the company logo will serve as your "profile picture" so to speak, and it will also appear on your team members' LinkedIn profiles showcasing their work experience. Don't skip this step; it's vitally important! According to research conducted by LinkedIn, business accounts that upload a cover photo and logo attract six times more traffic to their pages than companies who do not.
Write a Description for Your Agency
LinkedIn allows 2,000 characters for you to tell your company's story. This is where you explain what your agency offers, and why members should follow your page. In addition to the 2,000 characters, there is an option to add up to 20 business specialties. Therefore, use the first part of the description to highlight your agency and team's strengths and what sets you apart. Then, use the specialties section to indicate specific coverage products available to customers.
Optimize Your Page by Filling in Company Details
As with all internet business profiles, it is a best practice to complete the entire profile by filling in all areas where text fields are available. For example, enter your business website address. Use the drop-down menus to explain your industry, company size, business hours, and inception date.
If you are already a part of some LinkedIn Groups on your personal profile, you can include them in this section as well. If not, don't worry – we explain LinkedIn Groups later in this guide.
Publish Your Page
Set your profile to go live by clicking the "Publish" button! Take a moment here to go view your page as other members will see it by going to "Member view." Make sure you are happy with how your page looks, and if not, click on "Manage Page" to make any necessary changes.
Manage Your Page Admins
Setting up your profile is just the tip of the iceberg. Once you've got that completed, you will need to manage the page by creating, curating, and sharing content with your followers. Ensure that it's all fully compliant with both your brand and D.O.I. guidelines. This is a job that you should not do on your own. Let's face it; we know you are busy! Choose a designated team member or two to help manage your page. You can give them management access by adding them as Page Admins. Do this by clicking "Admin Tools," where you will be able to select additional page administrators. Click "save changes" to complete setting up your admin team.
More Optimizing! Optimization of your LinkedIn company page is an ongoing, ever-evolving project.
To begin optimizing your page:
Ensure that you have filled out all fields in your profile.
Confirm that all specialties have been selected.
Highlight key job vacancies within your agency.
If it is appropriate for your business, you can display your company name and description in over 20 different languages.
A few additional business tips for LinkedIn include taking advantage of LinkedIn Groups, creating Showcase Pages, and using LinkedIn Analytics to monitor engagement levels from your desired demographic. Let's break these down a bit:
What are LinkedIn Groups? LinkedIn Groups provide a place for professionals in similar industries, or with similar interests or goals, to network, share content, view and post jobs, and position themselves and their company as leading industry experts. LinkedIn Groups not only help you to make other business contacts, but it can also help you connect with your customers. Groups can be used as a way to reach your target audience in a more focused way, because the potential customers who are in that group, or simply viewing its content, are people who are actively interested in what you have to say and what your agency offers. In marketing terms, these customers would be considered "hot leads." However, LinkedIn Groups isn't a place for a business to advertise. In fact, advertising in groups is frowned upon because it takes away from creating genuine relationships with people. By sharing relevant content and engaging with members by commenting on posts, you can start building credibility within your industry. This type of exposure goes well beyond what a paid ad can do. Be mindful, however, that paid advertising isn't a bad option to help grow your business. Actively engaging with LinkedIn Groups is an excellent, overall business strategy.
Creating Showcase Pages. LinkedIn Showcase Pages are used to highlight your brand, specific details of your agency, and core business initiatives. It gives you the opportunity to share your unique content with a select audience. How are showcase pages beneficial for your agency? Well, showcases pages are an extension of your brand. If someone is interested in a niche part of your business, they can follow both your LinkedIn company page and that specific showcase page. The function allows you to create even more intimate connections with your customers. Businesses can create up to 10 Showcase Pages. The content on these pages can range from different products you offer, tips/how-to guide on selecting the right coverage, or even community involvement. It is up to you how you use these pages and what specialties are most important for you to highlight. However before setting up showcase pages, check with your marketing team to determine if they're compliant or not, with your particular brand.
Monitor Engagement with LinkedIn Analytics. Your agency can learn so much about your target audience through LinkedIn Analytics. Analytics help you to learn what type of content resonates the most with your demographic, what time of day and what days of the week are your posts receiving the highest amount of engagement. They can also give you insights on your follower demographics and activity on your company page. You don't get analytics if you're only allowed to set-up a personal page as opposed to a company page.
Try one big, bold LinkedIn strategy. Have a team member go to Google. Do a search for your top commercial vertical, law firms, CPA firms, Dentists, Chiropractors, etc. Find those businesses, who are headquartered in your market, and then have them go over to LinkedIn. Once on LinkedIn, have them do a name search for that business owner. Once they find that business owner's LinkedIn profile, send them a "connection invitation." Don't use the default message. Write your own, brief customer "connection invitation." You'll get a higher percentage of owners who will accept your "Invitation to connect." Once they accept, start interacting with their page and content. When they become familiar with you and your page, invite them for a cup of coffee, etc. Remember the key with "social media" is to "be social." You won't need a direct sales approach when using this method to close more new commercial lines business.