Have you been putting off creating a Yelp page for your business? Do you have one but don't tend to it regularly? Perhaps you have followed all of the steps in creating your page, but you are still not seeing much customer engagement? Putting together a strategy to leverage Yelp for Business is one of the best marketing tools that can help to grow your business in 2019.
Yelp is a powerful way to get more customers to your insurance agency. According to the 2018 ReviewTracker survey, Yelp ranks 2nd among sites that customers will check before they visit a business. So, if you've asked yourself how important Yelp is for your marketing plans, it's huge. Consumers rely on reviews before making major life decisions and/or purchases now more than ever. If you're business doesn't have a presence on one of the most prominent review sites when customers are looking for insurance, you are missing out on potential business.
Since Yelp allows anyone to create a page for free, there is no reason why you shouldn't have a Yelp page for your business. On the other hand, because Yelp allows anyone to create a page for their business, you must prepare to go beyond the basic requirements in order to stand out amongst the competition.
Through a multitude of both free and paid options on Yelp, you can strategically set your business up for success by making it easy for customers to find you.
The amount of business you will see coming to your business from Yelp directly correlates to how active you are online. The more information you provide and the more you interact with customers (and potential customers) on Yelp helps your page to become more visible on the platform and also position you as a thought leader in your industry.
The free benefits for Yelp for Business will get you far; however, if you have the budget to invest in growing your customer base, Yelp's paid advertising can bolster your visibility online.
Don't be fooled – once you get your Yelp business page set up, maintaining your page on a consistent basis is the way to maximize your marketing impact to bring awareness, which means more business to your agency.
Register Your Business
Go to the Yelp for Business homepage.
Check to see if a team member or customer has already created a business page for you by typing in your city and business name in the search fields. (Don't worry if your business already has a page. That just means you'll need to "claim" your business to take ownership of your Yelp profile – see Claim Your Business)
If your business does not already have a page, click "Add Your Business."
Complete all fields asking for your business' information including name, address, contact information, website, and categories*.
Click "Add business."
Check your email – Yelp will be sending you a link to confirm your account.
*In order to reach your ideal customers, you will want to include the most important and/or popular business categories you offer. For example, many insurance agents acquire new customers who are in the market to purchase auto insurance. From there, the customer is educated by the agent on all of the other policies available to them like life insurance or homeowners' insurance. So, an ideal category to select in this scenario would be "auto insurance."
Yelp allows businesses to choose up to three categories; just make sure that any information you include is compliant!
Claim Your Business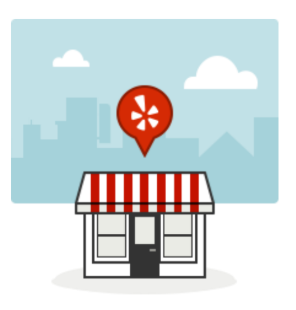 Go to the Yelp for Business homepage.
Check to see if a team member or customer has already created a business page for you by typing in your city and business name in the search fields. (Don't worry if your business already has a page.)
If a page does exist, click the "Claim your business" button. (If there isn't already an existing page, refer back to Register Your Business located above.
Create your business user account.
To verify that the business is valid, Yelp will call the number listed on your business page and prompt you to enter a verification code. (In the event that someone else has already claimed your page, Yelp will send you a prompt to submit a report to their support team.)
Optimize Your Business Page
Upload a photo of your business. We recommend using a photo of yourself and/or a photo of your team. Customers can connect to a business more readily when they see friendly, welcoming faces. Yelp allows each business to load an unlimited number of photos to your profile.
Confirm that your contact information and location is correct. You can reach new customers who are looking for insurance services within your 25-mile radius just by including the correct area in which you serve.
Update your business hours. This sounds like a no-brainer, but believe it or not, many businesses start their profile with one operating hours schedule and forget to update it when it changes. It is a major turnoff to customer who are interested in your service to want to reach you when your profile says your available, but actually, your hours have changed.
Solidify your business categories. Remember, a business is allowed to add three categories to their profile. By choosing the categories most relevant to your business, you are actually helping Yelp's algorithm to populate your business when customers search for your business categories.
Start Getting Reviews
Share your Yelp for Business profile link to all of your other social media profiles.
Ask customers in your social media network to provide a review for you on Yelp.
Include the Yelp logo in your email signature that takes customers directly to your profile. You can embed the image to your email (and other social media pages) using the "embed here" function on Yelp. This is a great call to action when communicating with current customers over email.
Fill out a form to receive a "Find Us On Yelp" sticker to showcase in your office.
Respond to Reviews – Good and Bad
Now that you have your Yelp business page up and running, optimized, and shared with your social network, it is time to convert that content, and online customer interaction, into actual business. Word of mouth is an oldie but a goodie.
Although, the old way of conducting word of mouth reviews doesn't quite work as well anymore. The customers you want have figured out how to have word of mouth interactions anyway, so you need to be a part of that conversation. One of the best ways of doing so is by engaging your audience across all your social networks, and that includes Yelp.
Post a "People Love Us On Yelp" sticker on your agency windows and around your office so that new and existing customers can become aware that you support the "Yelp Ratings & Review Revolution." It also demonstrates that your agency is focused on "world class customer service," even after the policy/policies are sold.
Once you become more active and engaged on Yelp, the reviews will start to come more frequently and more organically. Please ensure that you've activated the "This Customer Responds Within X Minutes" feature on your Yelp profile. Also ensure that you've downloaded the "Yelp for Business Owners" app on to your smart phone.
This will give you the peace of mind that your team is staying on top of any customer inquiries. Being active on your Yelp business page means more than creating the page, optimizing, and sharing via social networks. It is crucial as a business owner to be responsive to customer reviews – good or bad. In fact, Yelp tends to favor businesses that actively manage their profiles in this way. Therefore, your response to reviews is a way to boost your ranking within the Yelp search results pages.
When a customer leaves a stellar review, be sure to thank them for it! As we know, in business, and life in general for that matter, you can't please everyone. So, don't fret if you get a bad review. Look at a bad review as a learning experience by responding to the customer to fully understand their needs and how you can make it right.
When other potential customers see that you are genuinely concerned with what went wrong and you offer to fix it, they are appreciative that you have addressed the issue head on. Many times, once the bad reviewer sees your response and your willingness to create a positive experience for them, many reviewers will go back to revise or update their comment.
Make Your Page a Destination
By now, you've learned that simply creating a Yelp business page is barely scratching the surface in terms of leveraging this platform to generate new business. To make your page a place where people come to "on purpose," it would be wise to post updates regarding things like agency announcements, recognizing a top seller on your team, or welcoming a new member to the team, and uploading new pictures on a regular basis. Remember, picture uploads are unlimited! So, create an image strategy that includes uploading a new photo each week that ties back to relevant, engaging content in order to help your profile page populate in the Yelp search engines.
You want your page to be a reflection of your agency. If your page has little content, outdated business hours, and the like, then people will think your agency is either out of business or way behind the times. Customers want to make insurance purchases from people who are excited to help them in their journey of acquiring proper coverage for themselves and their families for years to come. Therefore, your Yelp page needs to shine, just like your passion for helping peoples shines when customer walk into your doors.
We recommend creating a content calendar and scheduling your posts in advance. That way, each week you can easily upload the content you've already created, maintain your page by continuing to optimize, and respond to customer reviews.
Prepare Your Page for Paid Advertising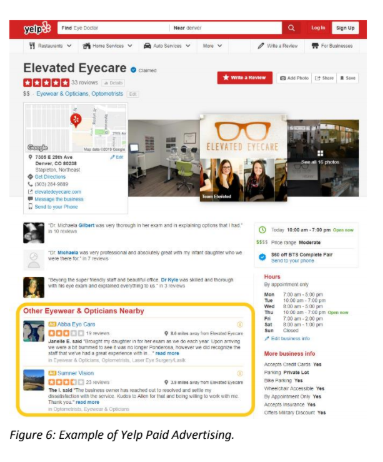 If you are looking to stay one step ahead of the competition, you may want to consider paid ads on Yelp. While all of the features mentioned so far have been free, increasing your Yelp visibility beyond the standard suggestion, consider investing in Yelp's paid upgrades. With these paid features you can add a call-to-action button to help convert page visitors into actual customers. You can also have competitor ads removed from you page, meaning no competing business can steal your audience. Your business can have access to customize a photo slideshow, and you get access to specialized Yelp customer support.
Additionally, there are paid advertising options that allow your agency to promote your business and its services throughout the entire Yelp network. It is a simple advertising solution that lets you set your own budget and manage your campaign on your own terms. You can turn ads on and off at your discretion. Photos, text, and keywords are all customizable as well. To get the most bang for your buck, you'll need to do some research on what types of photos, content, and keywords are the most likely to resonate with your target market that have the best chance of driving those people to take action. Marketing tactics like relevant imagery, actionable text, and lead generating keywords are constantly changing, so it is recommended that you carve out enough time to do market research on a regular basis.
Millions of people are using Yelp every day to help make purchasing decisions. In a recent survey conducted by Boston Consulting Group, businesses who just completed all of the free steps Yelp offers generated an average of $8K in incremental annual income. Are you ready to get a piece of that pie?
In order to see massive business growth by using this platform, it is necessary to adopt a habit of managing your Yelp profile like you manage your day-to-day business. It will require an investment of some time and energy. However, the payoff means more online visibility, which ultimately means more new policy holders.