Finding customers on Facebook has skyrocketed to one of the top ways to maximize an insurance agent's local visibility. It's a place where your agency "must be seen." The demographics are very impressive (http://www.pewinternet.org/fact-sheet/social-media/).

If you're not using Facebook as a part of your customer acquisition strategy, your agency is missing out on lots of potential business. Setting up shop on Facebook for a business is different from having a personal account.
First, there are steps to creating your business profile. Then, you must optimize your page to be a destination where customers want to come. How exactly do you do that?
This can be done by providing valuable, compliant, and relevant content specific to your market area. Utilizing this strategy can help to catapult your brand into becoming a thought leader in your community.
While creating a Facebook business profile is fairly straightforward, here are some additional marketing strategies you should implement:
Create a Facebook Business Page
To create a Facebook Business page, you must first already have a personal Facebook page. While personal profiles allow for several privacy features for the user to control who can see their posts, business pages are completely public.
Therefore, the content you decide to post on your Facebook business page should be informational and relevant to your target market. That's not to say that you can't show your personality and your team's culture. It just means you should keep all posts professional.
1. Select Your Business Type
Facebook allows business owners to choose their business segment for which their page will be categorized. This helps the Facebook user understand immediately what type of business you offer. More importantly, it helps Facebook's algorithm populate your page when a user does a search for insurance in your geographic area.
It is yet another way to add to your local Search Engine Optimization (SEO) strategy, so that your agency can be more easily found online.
2. Add a Cover Photo and Profile Picture
This may seem like an obvious step, but believe it or not, you will frequently find Facebook business pages without a cover photo or profile picture.
Imagine that your Facebook page is your storefront. What if you didn't have a sign indicating your business name and the type of business you run? Do you think people driving by would stop? Do you think your current customers could easily find you?
Insurance agents should treat their Facebook business page like they would their physical storefront. Essentially, this page really is your virtual storefront along with your insurance website/microsite. Therefore, make sure your cover photo properly explains who you are and what your insurance agency offers.
A custom graphic is great here, because it sets you apart from the competition. Creating a custom cover graphic for Facebook does take some next level web knowledge. So, consult your internet guru to help ensure that the dimensions of the graphic are in line with Facebook's restrictions.
Some brands, e.g., State Farm, Farmers, or Allstate will have some specific guidelines around what can, or cannot, be used as your Facebook cover graphic. For example, some brands say you can only use a picture of your office (interior or exterior), an event (where maybe you showcased your booth displaying your agency name or a "compliant car wrap," etc.).
Likewise, a custom profile picture allows you to put a face to a name, so to speak. In the insurance purchasing process, trust is a huge factor as to whether or not you will gain a potential customer's business. So, showing your online community who you are helps to create a warm, friendly welcome.
3. Complete All Sections of Your Page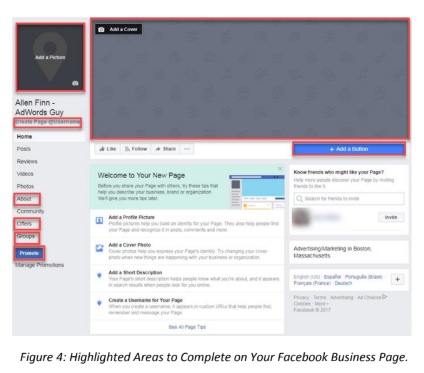 Just like your Google local SEO strategy, Facebook's algorithm has a similar process in populating search results that best answer a user's search query.
Thus, you want to give Facebook every opportunity to serve up your business page when a user is searching for your insurance agency or any of the products you offer.
One of the ways you can increase your chances of showing up in those search results is by completing every possible form fill available on your Facebook business page. Of course, sections like "About, Hours of Operation, Location," etc. are the typical forms you have seen across all social media platforms.
However, Facebook has some unique features that are quite successful in helping you tell your business story. For example, there is an "Our Story" field on the right-hand rail of your business page where you have an unlimited amount of characters to use to write about the history of your business.
When this section is properly optimized, you have a greater chance to be served up in both "branded and non-branded" search results in your local market place.
4. Use Publishing Tools to Schedule Future Posts
In the busy world we live in, it can be quite unrealistic to make time to post to all of your social media platforms multiple times per week or even several times a day (depending on the platform.) Facebook offers a Publishing Tool that allows business owners to gather your unique content and schedule the day and time in which those posts will go live.
You or a team member can schedule time once per week, for example, to schedule all of your posts for the following week. Not only will this save you time, but it will also mean that your content is well thought out and meets the goal of increasing your online "engagement rates" within your community. Many brands offer sophisticated tools to help you become more effective, and efficient, in this area of posting, e.g., Hootsuite, Hearsay Social, etc.
5. Reference Insights to Track Campaign Success
Facebook has an analytics tool that allows business owners to view statistics about the type of people who are in their social network, how many page views their profile is getting, how Facebook ads are performing, etc. Businesses can use this information to understand more about post and page engagement.
In understanding engagement, insurance agents can see how successful an ad or a post is and how to optimize your content to get even better engagement. On social, It's all about maximizing your engagement and conversion rates.
6. Create and Advertise Events
Facebook events are a great way to grab peoples' attention and keep it. Almost everyone with a smartphone has a Facebook profile these days, and many users count on Facebook events to help them properly organize their calendars. Creating a Facebook event for your business will allow you to connect with your audience and help you to foster that connection. You can get automatic notifications and alerts directed towards the user to update them on event details and timeline.
To use this tool effectively, you must learn how to plan, coordinate, and spread awareness about your event.
In an effort to get more out of this Facebook strategy, choose an official name for the event that is catchy and memorable. For example, many insurance agents who are involved in their local community host, or co-host, at family-oriented events. Sometimes the insurance agency simply has a booth at the event.
These are great opportunities to let consumers and business owners know that your agency will be represented at a particular event. Shouting this out on Facebook events will attract potential customer that aren't already a part of your existing book. You can also target down to as little as a 1-10-mile radius around your physical office using Facebook Business Manager.
Be sure to write a clear and thorough description. The description should include location, time, schedule of events, any special guests and any "gifts" that you'll be handing out at the event. Get creative with explaining the details of the event so that it is compelling and unique and resonates with users.
If you are using a venue that has a Facebook profile, tag that venue in your event. The venue will get a notification that they've been tagged, and you can use this as an opportunity to cross-promote. Every user that follows the venue's page will also have access to the event (even if they are not following you.)
Add a cover photo for the event and utilize the feature to add keywords for tags. Don't limit yourself to tags that only pertain to your business.
Finally, post your event to your Facebook Business page's wall and allow people to comment publicly on the event. This opens up the opportunity for users to engage with you prior to the event in ways like asking questions and tagging their friends to attend the event with them. Then, you can respond to questions and gauge overall interest in the event.
7. Share Original and Relevant Content
While it is time-consuming to create original content for your page, it is imperative that you do share original content a few times a week. One prominent study recommends that business profiles post 1 time per day on Facebook; depending on your creative skills, you'll have to share some relevant content to supplement your original content.
Relevant content is essentially sharing posts that are within the context of what your customers are interested in, what your brand stands for, or something generic and "feel good," like puppies and babies. Believe it or not, in advertising puppies and babies do actually work!
Don't forget that your corporate brand has a robust Facebook page. However, they don't post for their agents at the local level. Corporate Facebook pages are an excellent source from which to share your compliant content.
Scheduling your content by week or even by month will help keep you organized and up-to-date with the best practices for posting to Facebook.
8. Respond to Comments
When users write reviews for you, like posts, comment on posts, and share your content, be sure to respond! A user who is engaging with you and your content is considered a "warm" lead. This is someone who is interested in what you have to say, and that's the hardest part in acquiring customers – getting their attention! Don't miss the opportunity to capitalize on this engagement and provide feedback on responses you receive from users.
Whether the comments are good or bad, always view it as a chance to thank a user for a kind comment or review, or publicly address a user's perceived issue with your commitment to making it right.
Either way, your response will go a long way with potential customers, because they will see that not only are you involved in your business but also that you care about your customers.
9. Create Facebook Ads
Using Facebook's ad tool is one of the best ways to spread awareness about your business on Facebook. Facebook ads allow you to promote your business page throughout Facebook's entire ecosystem, and there are a number of integrated tools to assist businesses in creating effective Facebook ads.
Facebook offers a beginner's guide to advertising on their platform, which is a great starting place for understanding the entire advertising process from planning, creating, testing, and understanding insight statistics.
So why are Facebook ads something you should consider? Well, if you're interested in connecting with a larger online community quickly and reach potential customers outside of your current network, Facebook ads can help. They allow you to select very specific demographic attributes that help you to pinpoint the exact type of user with whom you are looking to connect.
In addition, as mentioned earlier, Facebook has "throttled" organic reach. They've gone to more of a "pay-to-play" model. In other words, they want you to invest on their platform in order to reach their more than 214 million "Monthly Active Users" throughout the U.S. (https://www.statista.com/statistics/398136/us-facebook-user-age- groups/). When business page owners pay to market their agencies on Facebook, your agency has a higher chance of being served up in more organic traffic.