It's no secret that Google is the biggest player when it comes to search engines, but did you know that it's also one of the best tools for your overall 2019 digital sales strategy?
Google has made it easier than ever to manage marketing for your insurance agency. In the digital marketing business, we have a saying, "It's all in the settings." In this case, "It's all in your Google My Business (GMB) dashboard." GMB is a free platform that is linked to your GMB account.
Why Use Google My Business?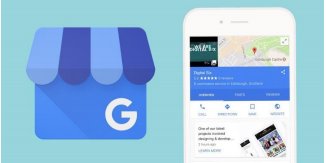 You might be thinking, "Why should an insurance agent use Google My Business?" After all, people should already be able to find you on Google, correct? Isn't that enough?
It's no longer enough to do SEO on your website and not understand the importance of claiming (if you haven't already) and fully optimizing your GMB account. It can be one of the most effective tools in your digital marketing tool box that can take your insurance agency to the next level. Google is not one of the four main data aggregators (Infogroup, Localeze, Acxiom or Factual). However, don't rely on those four, major data aggregators, nor your marketing agency, to manage the many minute details related to effectively optimizing your GMB account.
For one thing, it's hard to control what information is out there about your insurance agency. Some information about your insurance agency, online, might be inaccurate or outdated. When we pick-up a new agent as a client, we see these inaccuracies frequently.
People these days use search engines to shop for everything, and Google is the biggest one of all, with over 63.2 % market share, as of Nov 2018. That's one of the reasons you want to make sure you take control of what information people see about your agency.
But, more importantly, studies have shown that people who are searching online are already ready to buy: 50% of people who search with their phones visit that business' location in the same day.
There are many people out there who are ready to purchase insurance, but they just have to find you. And Google My Business can make sure they do. Here's your Google digital strategy checklist:
Claim your Google My Business (GMB) Account
The very first thing you need to do in order to start marketing your business on Google and Google Maps is to claim your listing. By claiming your GMB listing, your agency will appear on the different Google properties, and more importantly, help your insurance agency show up on Google Maps and local searches when someone types in your specific name and brand. This is especially important when it comes to building your book on "referral, repeat and W.O.M." (word-of-mouth) business–this is where the "rock-star" insurance agents excel.
Google has made this process relatively easy, but it can be time consuming, because it needs to verify your NAP (Name, address and phone). Here's what you need to do to claim your business listing on Google:
Go to google.com/business
Enter your business name and street address.
Depending on what listing you have or don't have, you will be asked some questions. Follow the prompts until you hit the last page and press submit.
You will be prompted to have them send you a postcard.
Wait for the postcard in the mail and follow the instructions to verify your account.
In some rare cases, someone may already have control over your Google My Business Listing. No need to fear, if that's the case; you can always recover your GMB page.
Increase Ranking on Local Organic Searches
So, now that you have your GMB account, it's time to make your listing more visible. But how can you ensure that the right people (i.e. potential customers) are seeing your listing? For example, if they search for "Auto Insurance in X City", how can you make certain that your listing appears near the top? After all, the first results on any given search on Google get over 30% of the clicks. That means when someone does a search for "Auto Insurance in X City", there's a very high probability that they'll click on the first agent. In many cases, they may not continue clicking down the page.
That's where local SEO or Search Engine Optimization comes into play.
This may sound scary to the uninitiated, but for GMB, all you need to know is that "white hat" SEO can make your business listing more attractive to Google's search engine algorithm and thus put you at, or near, the top of search results when people look for insurance agents in your area.
Though there are many techniques you can employ to improve your rankings, one of the easiest ways to do this is to add as much relevant and accurate information on your GMB listing page as possible. Optimize your GMB profile.
Verifying your correct address, website URL, phone number, categories and other details "tells" Google that you own a legitimate, local business. Remember Google always wants to serve up the most accurate results, in the shortest time possible, to its users. After all, that's what made Google, Google.
One more reason you should have accurate information: if someone were to pull up your business listing page on their mobile phone or while using their voice search assistant, they might want to call you directly or drive to your location. So, make sure your business details are correct in your listing, so you don't inadvertently direct them somewhere else. One of our clients recently mentioned that he asked a "new comer" who was at his office, "How did you happen to hear about us?" The "new comer" said, "I was a few blocks away and I ask my voice assistant on my mobile, "Auto insurance agent near me." In that case, Google knows the location of that searcher, because of their GPS location.
A business description can also help your listing. Make sure it is filled out with relevant and accurate keywords that reflect your business and the types of insurance services you offer. It should be a maximum of 750 characters and you can add almost any type of information here. If you're unsure of what to put inside after you've added your products (Auto Insurance, Homeowners Insurance, Life Insurance, Business Insurance, etc.), you can also add any awards you've received, what makes your business stand out from the crowd and what makes your agency different. Don't forget you're limited to 750 characters and spaces in this section.
Another recent addition to GMB listing is the service menu. Previously, this feature was used so restaurant owners could upload their menu items to their page, but it has since been expanded to include services. You can add the different types of insurance and services you offer in this section. This may take a while to complete, but it is well worth the effort.
Add Photos, and Compliant Videos/Commercials, to Your GMB Account
Something else that can help your GMB listing become more visible and rank higher on searches is adding photos, and compliant videos and/or commercials, to your page.
Photos, and compliant videos, add legitimacy to your business; it's also a great way to showcase your agency. You can put your best foot forward and entice potential customers to work with you instead of your competitors.
How can you do this? First, you may want to show photos of your office. Exterior photos can help people find your location more easily, which is especially useful for people who may be using voice search to find you on a map. Interior photos, on the other hand, are a great way to show off your happy team members and your professional-looking office.
Next, you might also want to add some photos from events, award ceremonies or perhaps any charity or outreach events you've attended. This shows that you're involved in your local community and that you value those around you.
Since they don't yet know you, potential customers will definitely be judging you by what they see first, and the photos on your account are an excellent way to give a good first impression.
Encourage Customers to Review You On Google
These days, reviews are the lifeblood of any business. In the past, consumers trusted referrals from people they knew. More recent studies have shown that about 84% of people trust online reviews as much as those of friends. Online reviews are now the new W.O.M. (Word-of-mouth) referrals.
That's the reason why you should encourage customers to leave your agency reviews on Google. Both quality and quantity matter on GMB reviews, and they are displayed prominently on your listing page.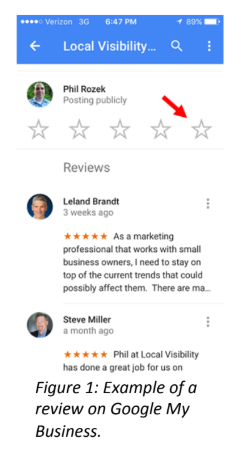 Getting reviews on your GMB page is simple but challenging, at the same time. It's simple because you just have to ask them. Maybe, after you're done writing a policy, you can ask your new customer to leave you a Google rating & review. Or, you can send out a follow-up email to your customers and give them the link to your GMB page and kindly ask them to leave your insurance agency a rating & review on your GMB page.
But, it's also difficult because A) some customers will have a different comfort and skill level when faced with new technology and B) unless you're sitting right next to them, you can't be certain they will leave you a rating & review.
Most people don't leave reviews for a variety of reasons. They may be too busy or have forgotten. Or they might not know how to leave your agency a review. Or, it might be that they don't think you need them. Whatever the reason, you may need to kindly follow up with them several times, through a number of channels, e.g., email, phone, text or face-to-face. Keep in mind that you should never "pay customers" to write you a review. Firstly, it's illegal in most states and secondly, it's a "non-compliant" activity in most major brands' compliance guidelines.
At the time of this writing, Google doesn't frown upon a business asking for legitimate reviews. So, feel free to keep asking your customers on a regular basis.
Use Google Posts Regularly
Google Posts are a relatively new feature that was rolled out in 2018 and is something all business owners should use. It's like posting on Facebook or Twitter, except that you're doing it directly from your GMB page.
Google Posts allow you to promote virtually anything on your business listing. Most insurance agents have access to 50-125 products that they offer. How about writing a 100-word description of one of those products and publishing it through your Google Post section each week? If you pick-up a new team member, why not publish that on Google Post? If you set-up your booth at event, why not take pictures (use the best one for your Google Post), and add the others to your GMB "photo library?" If corporate has a particular consumer announcement or product launch, why not? You've got the point.
Keep in mind that Google Posts expire after seven (7) days, so make sure you always have fresh, relevant content going up on every 8th day to ensure maximum visibility. You can activate this Google Post feature inside your GMB dashboard.